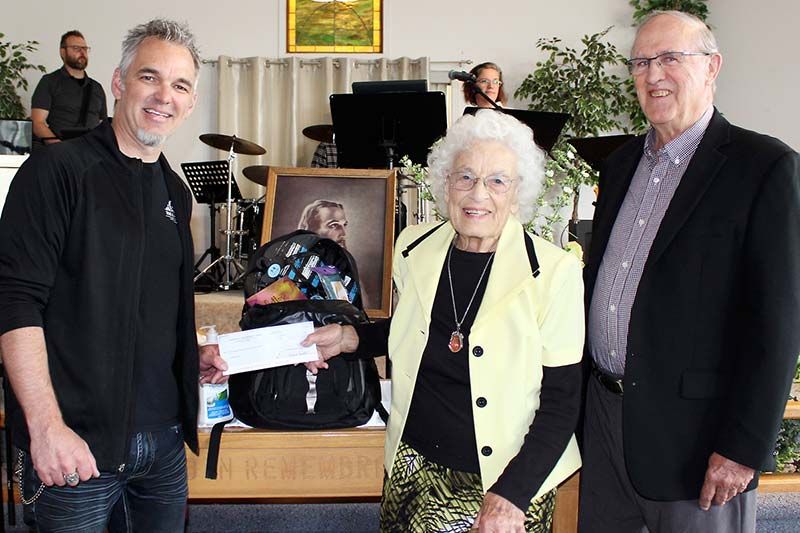 Clara Snook et le Pasteur Carl Bull ont présenté un chèque à Doug van der Horden d'un montant de  $6,000 qui fournira des sacs de Premiers Secours  aux victimes du traffic d'être humain dans la région.
Doug van der Horden a lutté contre le traffic d'être humain depuis de nombreuses années. Il a une page Facebook, FAST 101 Fighting Against Sex Trafficking 101 mais il a lutté une bataille difficile.
Mais, il a inventé un programme pour aider quelques victimes et dimanche dernier, l'Église Méthodiste Libre d'Harrowsmith est venu en l'aide, levant $6,000 pour fournir environ 24 sacs à dos qui seront donnés aux filles victimes de ce crime qu'il dit "backpacks to be given out to girls who've fallen victim to this crime that he says "depend du secret pour opérer."
"Nous voulons que les gens aient plus conscience du problème et des besoins de soutien pour l'enfance et la jeunesse dans notre communauté," a dit BJ Calver EMLH une mission.
Ces sacs sont des sacs à dos remplis de toutes sortes d'effets personnels comme du savon, des brosses à dents, des vêtements, autres nécessaires de toilettes et essentiels ainsi que des articles de confort comme un journal et des stylos, une couverture en polaire pour s'emmitoufler.
"L'une des lacunes, lorsque les services aux victimes ou la police entrent pour faire des arrestations est que les filles n'ont littéralement rien d'autres que les vêtements qu'elles ont sur leur dos," dit van der Horden. " Ces sacs vont bien servir pour établir avec de l'espoir un rapport de confiance entre la police et les victimes.
"Ils ont un bon premier point de contact."
Van der Horden a dit que le traffic sexuel fonctionne depuis des années et des années mais cela est dépendant du secret et n'est pas très visible.
"Quatre-vingt treize pour cent des victimes du traffic domestique sont nos propres enfants". dit-il." Et étant sur la 401, nous (région de Kingston) sommes un gros centre.
"Cela arrive depuis des années mais cela n'était pas dans les radars alors nous parlons de milliers de victimes."
Il dit que le profil des victimes est souvent une jeune femme, adolescenet et parfois pas plus agée de 11 ans, qui veut quitter le domicile familiale quelqu'en soit la raison.
"Cela peut être à cause d'abus ou tout simplement de la simple rebellion contre l'autorité". Dit-il. "Elles ne savent pas ce qu'elles veulent mais la seule chose qu'elles savent c'est qu'elles veulent sortir de là.
"Les prédateurs sont très forts à repérer cela, à être gentils avec ces filles et de les attirer dans cette vie."
"C'est un crime qui dépend du secret et c'est horrible."
Il dit qu'il a travaillé avec les Forces de Police de Kingston et que leurs réponses ont été très enthousiastes.
"Les choses prennent formes et avancent," dit-il. "Nous avons tout juste donné les premiers sacs aux services des victimes."
Écrit par Craig Bakay Mercredi 30 Mai 2018